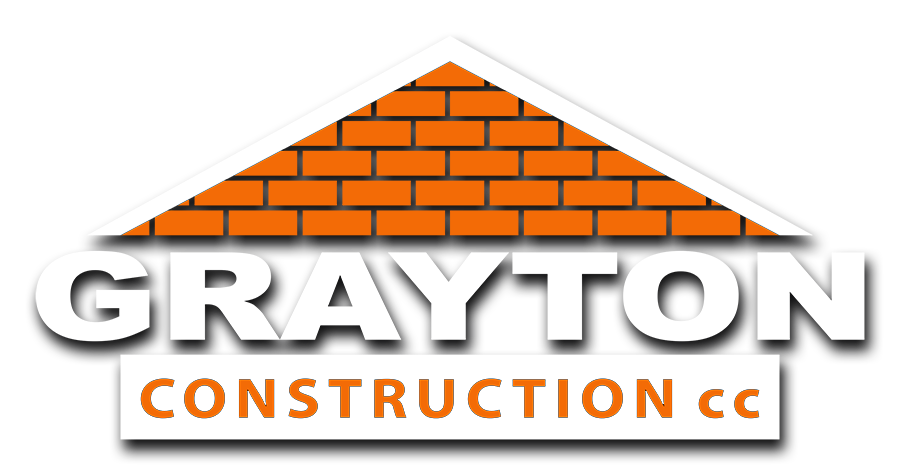 GRAYTON CONSTRUCTION
"25 years in the industry proves we've stood the test of time"
Contact us now for an obligation free Quotation!
t&c's apply
GRAYTON CONSTRUCTION is registered with the NHBRC. We work closely with the client, guiding them throughout the entire process of building a new home.
Situated in George, GRAYTON CONSTRUCTION is a professional building contractor, with a primary focus on building new residential
homes, but we also do additions and alterations for a variety of buildings including schools and offices.
We strive to offer the highest quality work, using the best quality material available. Keeping our prices fair and our customer service impeccable.
We are dedicated to providing you with a level of service that is unmatched. Our attention to detail and reliability ensures that we exceed our clients' expectations on every project.
Some of our latest projects
What our Clients have to say:
Dear Brenton,
You are really a very responsible contractor and nothing that I could ask of you was too big or too small.
I can say that it was really a pleasure to work with a contractor that proved to be very thorough and delivered workmanship of a very high standard.
Before I contacted you I enquired at the Building Exhibition Centre in George and they assured me that your work is of a very high standard.
You proved to me that they were one hundred percent correct.
Thank you very much for the pleasant way that you handled the whole process and assured that every little detail was attended to.
You can be proud of the work done at my house.
The man has an eye for detail, and an inability to accept anything other than good, neat work. I've been an employee and a recently become a client too, Grayton construction made me the contractor I am today. and when it comes to the work they put out I'd be happy to personally and confidently refer their services to anyone I know
This letter serves to confirm that Brenton Gray, of GRAYTON CONSTRUCTION was a preferred choice in my offering the opportunity to quote on projects, as a contractor whilst I ran my practice in South Africa. I have recently relocated to the United Kingdom, and the fact that he is competently and willingly finishing off projects in my absence, yet keeping me in touch with progress speaks for itself for which I am truly grateful.
Brenton Gray, has on a regular basis proved to be cost effective when compared to opposing quotes, yet is more often than not all inclusive as well in his service and content offering. His ability to see a project through to completion, as well as his loyalty to the professional team in the eyes of the client is a further testimony to his unwavering and upstanding character which is always noted. His method in handling his staff in a humane and fair manner has over the years also been noted.
Grayton Construction has always been willing to undertake the small projects, which more often than not are overlooked by other contractors as we all know such projects offer little relief in terms of earnings and client contact, but does these with the knowledge that the larger projects, which he is more than capable of undertaking, are offered to him as well, on a fair and competitive basis with other contracting parties.
I would always recommend him for projects, and sorry that he is logistically not able to do projects in the UK. I trust this recommendation will receive the attention and promise of potential future work it deserves.
Brenton Gray from Grayton Construction built a house for me in 2014.   I found his work to be of an excellent standard and have had no issues with the building whatsoever.
He also built a fires store at my business in 2015.   This was a very technical project as it is in a laboratory and needed to comply with Emergency Management Services legislation.   Again this was built to a high standard and we have had no issues. 
Most recently he completed storm water reticulation and paving also at my business.  As with the others, this job was completed timeously and professionally. 
I have no hesitation in recommending Grayton Construction. In all three projects I was kept informed every step of the way. Brenton is professional with excellent communication and management skills.